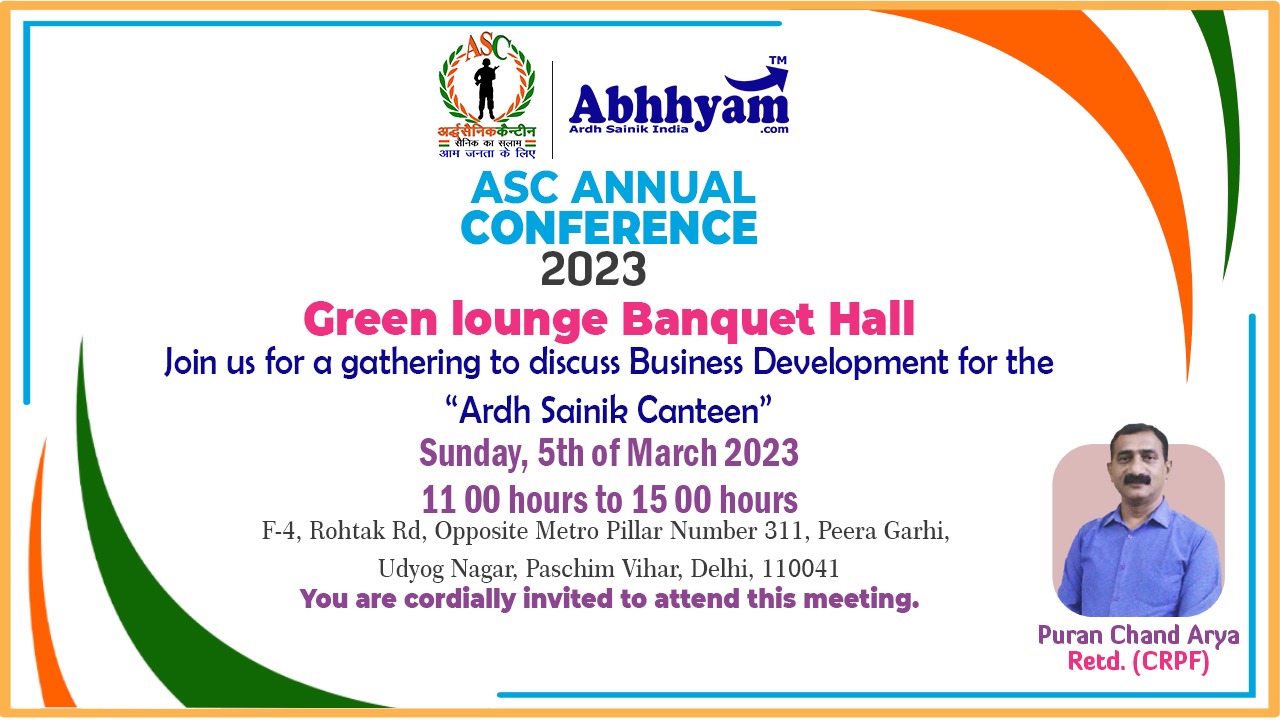 Ardh Sainik Annual Conference- 5th March 2023
The Ardh Sainik Annual Conference is set to take place on March 5th, 2023. This conference is organized by the ASC Founder & Chairman, Mr Puran Chand Arya and is an important event for all military community members. The meeting is a platform for the gathering to discuss business development for the Ardh Sainik Canteen and its plans. It is also an opportunity for military leaders to discuss and strategize on the country's current and emerging challenges.
The conference will also provide an opportunity for the Army to interact with veterans and other military community members. This includes recognizing and honouring the contributions of retired soldiers, as well as providing an update on the welfare and rehabilitation of veterans. For the Indian Army and the military community, the Ardh Sainik Annual Conference is a significant occasion. It gives the Army a stage to highlight its successes and capabilities and formulate strategies for dealing with present and future difficulties facing the nation.
The conference is accessible to the media as well, providing the general public with information about the function and pursuits of the Ardh Sainik Canteen. This is a crucial method for the Army to spread public awareness of its purpose and objectives while also gaining support for its initiatives.
Agenda and Purpose
Since 2015, Ardh Sainik Welfare Trust (Regd.) has provided assistance to the soldier's community in a number of areas, including widow welfare, employment support, ITR assistance, and reduced-price school and college admission with seat reservations.
Salient Features of our Ardh Sainik Industries: Given the well-known dedication and commitment of Indian soldiers to their tasks, the ASI concept was created to offer the society and soldiers ready-to-start small-scale industries that are entirely eco-friendly and pollution-free under the "Start-up-India" programme. To achieve the objectives of "Atmanirbhar Bharat," "Skill India," "Make in India," and "Start-up India" schemes that will contribute to the development of the country as well as progress in the Soldier's life, we are providing them with a ready-to-start industrial set-up with comprehensive guidance, training, and education. Our cutting-edge, ground-breaking rehabilitation initiative, Ardh Sainik Industries (ASI), aims to improve the lives of the Indian soldier community by giving them access to entrepreneurial and employment prospects.
(a) One-stop solution for all kinds of MSME industries.
(b) Bank Finance & Technical guidance for the setting up of industries.
(c) License, Permission & compliance support for the setting up of Industries.
(d) Industrial Infrastructure Development with Factory Interior Setup & Machinery support.
(e) Training, Education & Certification support with Technician Support/ Help Centre support.
Advantages in Future for Soldier's Community: All Schemes by ASWT
Ardh Sainik Homz: Tourism refers to the actions of individuals who travel to and stay in locations outside of their normal surroundings for leisure, work, or other purposes for a maximum of one year in a row. Due to the constantly changing demands and preferences of the consumer, tourism is a dynamic and competitive industry that requires assistance over an extended period of time. Any nation's economy benefits greatly from the travel and tourism sector. To make it a memorable experience, good planning, safety, and fun are required. Indian villages are the most alluring locations for urban residents today since they are new and natural tourist destinations.
A rehabilitation programme for our soldier's community called "Aam Janta Ke Liye" is run by the Ardh Sainik Welfare Trust (Regd.). The Soldiers for Civil Society operate a chain of digital retail stores in Tier II and Tier III cities, and it is expanding every day. The well-being of the Soldiers and Society is the goal of the ASC Marketing plan.
ASC Marketing Plan for Abhhyam: In addition to a secured lifetime pension on the collected pension funds from regular shopping, Abhhyam.com offers a variety of discounts, incentives, bonuses, and pension funds that are released on a monthly basis. The ASC Network Marketing Plan was updated to better serve the needs of the populace. The following network marketing issues were eliminated from the ASC plan.
Ardh Sainik Housing: The current housing satisfaction rate for the entire soldier community of the Defense and CAPFs, including NSG and SPG, is only about 15%, according to the records. personnel. The government is also making a number of efforts to expand housing options. By offering Ardh Sainik Housing (ASH) to the entire soldier community, we at the Ardh Sainik Welfare Trust have taken the initiative to serve the soldier's community. The health and rehabilitation of the Soldier's community are our top priorities. Therefore, to fulfill the housing needs of the CAPFs and Defense Soldiers, including NSG and SPG, as well as to support the Government's goal.
The two types of Ardh Sainik Housing projects that we have created are as follows: -
Ardh Sainik Town (AST): An Ardh Sainik Town with all contemporary amenities & facilities, including residential villas and the Ardh Sainik Sports School.
The Ardh Sainik Farmhouses (ASF) will be distributed and purchased in response to demand, allowing soldiers to use the land for farming or habitation.
Ardh Sainik Pharmacy: The most difficult industry to operate in India is the pharmaceutical store, but starting a pharmacy business is also very difficult. Running a retail pharmacy store requires a variety of licenses and permissions, which are necessary for the supply of real medications. Additionally, pharmacies are profitable relative to other businesses and are in high demand throughout all of India. However, the most crucial aspect of this firm is its decent location. Therefore, before choosing to be a retailer, one must consider the geographical element.
This opportunity is open to all veterans and family members of active duty personnel.
Under the Ardh Sainik Pharmacy Store Program, widows and retired troops are given priority status.
A one-stop shop that provides all necessary medications from a single depot.
TheekHai India: The Soldiers for the Society established the TheekHai India app so that people might stay in touch with their friends and family whenever and wherever they go. TheekHai India is available on phones all across the world and is free to use. It offers straightforward, secure, and dependable texting and calling. Listening to Ardh Sainik Radio is another function of this app that is offered to spread patriotism among all of the country's residents. Everyone must utter the phrase "Theek Hai India" and take pleasure in the sentiment that "Yes, everything is good." According to the law, data fees that relate to third-party offers may be imposed.
TheekHai India App's IMPORTANT FEATURES INCLUDE:
1. Phone Authentication: The user receives an SMS message with a special code that authenticates their user profile and data for simple access.
2. The Stories feature: Allows users to post images and videos that are automatically erased after 24 hours.
3. Support for voice and video calls: To spend quality time with your loved ones. In addition, you can switch between group voice and video calls while on a call.
News from Ardh Sainik: The dedication and commitment of Indian soldiers to their work is well known, but we rarely hear about their accomplishments. As a result, the Ardh Sainik Group launched the Ardh Sainik News channel, where we regularly provide updates on the Indian Armed Forces, the soldier community, the government, and significant news from around the world. We will be able to serve our society through this Ardh Sainik News channel by offering all original news, information, frequent updates, and data about our country. All of the residents have faith in our soldiers, thus they will like to receive more frequent information on the state of our forces. This will also help the residents feel more connected to our soldier community.
a) News pertaining to soldier welfare: The Indian Armed Forces news and occasionally significant updates are the main focus.
b) National and international news: Important news about government-related alliances and pacts on a national and international scale.
c) Departmental News: Information about the various branches of the Indian Armed Forces, including the Army, Navy, Air Force, CISF, CAPF, NSG, and SPG. consists of newly signed agreements, contracts, and international trade in relation to warfare.
Abhhyam (Ration Khao Pension Pao) Benefits at large
Ration Khao, Pension Pao - Yes, Sell From Ardh Sainik Canteen, Save Customer's Life, ASC MANAGER ATTENTION: Abhhyam.com is an ASC marketing strategy that uses the ration that is provided to customers as a pension. Additionally, unemployment and rehabilitation are major needs and challenges for the nation, with women and retired soldiers presenting particular difficulties for both the government and society.
The appropriate ASC network marketing plan was enhanced as follows:
a) Product Selection: Abhhyam.com offers all brands at Ardh Sainik Canteen locations, and customers can also shop online at www.Abhhyam.com.
b) Controlled Price with Discount: Ardh Sainik Canteen offers products at a reduced price by an additional Point Value.
c) Simple Sign-Up Procedure: You can join Abhhyam.com for free with just a Rs. 100 purchase from Ardh Sainik Canteen.
d) Abhhyam.com does not require the introduction of any additional members, as your downline is automatically provided by the Abhhyam Growth Tree Queue tree based on seniority.
Abhhyam.com: The best course of action for securing an old age pension is:
People often select different strategies to protect their quality of life as they age, however, Abhhyam.com enables users to preserve their quality of life by continuing to buy regularly for 65 months while also receiving a lifetime pension.
Monthly Ration/Rashan
People choose a variety of choices to protect their old age, but Abhyam.com enables residents to preserve their lives by purchasing regular items for 65 months and receiving monthly income together with offers of a permanent pension. However, because of a lack of knowledge, it is always challenging for jawans or other civilians to start or plan a business.
ASC marketing technique called abhhyam.com treats the ration given to clients as a pension. The nation also has significant demands and concerns related to unemployment and rehabilitation, with women and retired soldiers posing particular hurdles to society and the government. Women have many challenges in daily life as they try to fulfil their responsibilities to their families, which forces them to choose a career.
Excellence in ASWT Award
The ASWT Award for Excellence is a component of the ASWT Excellence Program, which honors all the soldiers who significantly improve the soldier community's entrepreneurial ecosystem and quality of life through various ASWT schemes. Your achievements are valued and crucial to the continuous expansion of ASWT, which contributes to the soldier community's growth across the country. The ASWT Excellence Award honors the finest of the best in the soldier community, honoring each nominee's outstanding dedication, originality, and ingenuity. ASWT will continue to set new standards for excellence and innovation in the process, products, and vision in all horizons of expansion with your continuing participation and partnership.
In the process, we are looking for nominees in the categories listed below:
| | | |
| --- | --- | --- |
| SL. NO | Category | Count |
| 1 | Best Sale (All Brands) | 2 |
| 2 | Senior most ASC Manager | 1 |
| 3 | Youngest ASC Manager | 1 |
| 4 | Best Female Entrepreneurs | 2 |
| 5 | Veerangna (Widow Category) | 2 |
| 6 | Best Sales (Abhhyam Brand) | 2 |
| 7 | Best Sales (Through abhhyam.com) - Ration Khao Pension Pao | 2 |
| 8 | Best Look wise and Management as Per ASC-SOP | 2 |
| 9 | Best Purchase (From Depot) | 2 |
| 10 | Innovative Ideas of Sales | 2 |
1st ASC Excellence Award: INR 11000 || 2nd ASC Excellence Award: INR 5100
Enhancing the CSD: Improving Services and Supply Chain Management is the conference's focus this year. The discussion will centre on methods to enhance the operation and management of the CSD, with a focus on improving the services offered to the armed forces and the CSD's supply chain management.
In general, those interested in the Indian armed forces and the defense sector should attend the Ardh Sainik Canteen Annual Conference. It allows professionals to get together, talk about crucial issues, exchange concepts and best practices, and network. Additionally, it emphasizes the value of CSD and how it affects the lives of the Indian military troops.