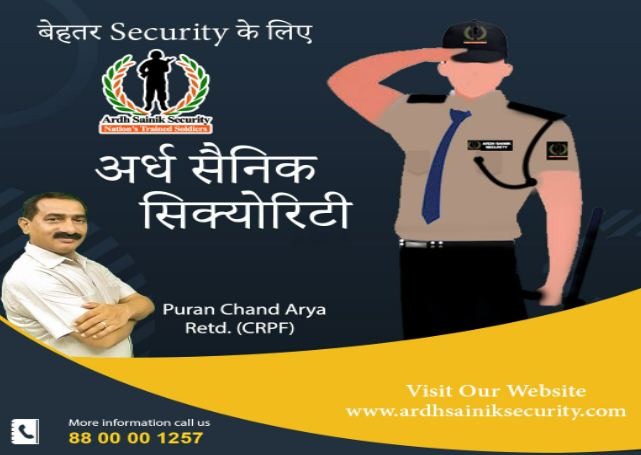 How Ardh Sainik Security is Better Than Any Other Security Agency in India
Ardh Sainik Services Pvt. Ltd. is the market leader for Security and Safety Solutions on the domestic and corporate levels. The organization that controls Ardh Sainik Security is the Ardh Sainik Welfare Trust (Regd.), located in New Delhi. For more than ten years, "Ardh Sainik Security" has engaged in rigorous research and development in service development, customer satisfaction, and market analysis. In 2018, our company formally launched its activities. We pledge to provide you with the highest professional services without sacrificing anything for you or your business. A leading security company in India, Ardh Sainik Security Services, has made a name for itself as one of the nation's most dependable and effective security service providers. The company has built a reputation for providing top-notch services unmatched by other security agencies. It offers a wide range of protection services to both people and organizations.
ardh sainik security is exclusively for the community of soldiers Since members of the paramilitary forces have developed professional skills throughout their careers in the service, it is the goal of ASWT to give them and their dependents the finest opportunity. However, deciding on a second career is up to the individual to determine their ability. ASWT is entirely committed to creating chances and realizing people's aspirations for self-employment.
Following are only a few of the reasons why Ardh Sainik Security is superior to all other security firms in India:
Expertise: Experienced security workers who are experts in their industry make up Ardh Sainik Security Services staff. These people have the most recent training and technology to ensure that they can offer their clients the highest level of protection.
Technology: Ardh Sainik Security Services makes significant technological investments to guarantee that its security staff can access the most up-to-date tools and equipment to do their responsibilities efficiently. This covers the employment of cutting-edge security measures, tools for communication, and weapons.
Trustworthiness: Ardh Sainik Security Services has a history of providing dependable and effective security services. The business has a long history of offering its customers the highest level of security and tranquility.
Flexibility: Ardh Sainik Security Services can offer various security services that are customised to meet each client's demands. This covers everything, from event security and monitoring to personal safety.
Reputation: Ardh Sainik Security Services has earned a reputation as one of India's most reliable and competent security companies. This results from the business's dedication to offering top-notch services and its emphasis on client pleasure.
Essential Characteristics of Ardh Sainik Security Services (ASSS):
1) Our organization depends on those who have served in the military services and are on the line.
2) We have a sizable group of ex-servicemen skilled and knowledgeable in performing security jobs.
3) We provide each staff member with a stylish Terrycot uniform that includes everything from headgear to shoes.
4) Our workers will not belong to any unions, and you will find them the most disciplined, loyal, and polite individuals in every way.
5) We have experienced and knowledgeable field workers on hand who take care of the supervision and random inspections of the personnel sent out to perform their jobs.
6) We ensure that none of the workers will be negligent or directly participate in any theft or pilferage.
7) We can offer our clients, additional security people, at concise notice.
8) We teach our staff members about firefighting, industrial security, and intelligence work before assigning them tasks.
9) Our staff's alertness and intelligence will make you feel welcome and comfortable wherever you are.
10) Our areas of expertise include offering Armed Escorts for Cash and Personnel Protection. All our employees are paid following the Minimum Wages Act and other applicable legislation, absolving the primary employer of any duty.
Categories For Placement Or Rehabilitation Under ASSS:
The following technical and non-technical sectors are thought to offer our former soldiers the most suitable employment opportunities in society and industries: -
1) PSO Service (Personal Security Officer): The greatest Commandos are the trained Ardh Sainik Personnel from the National Security Guard and Special Protection Group, who provide PSO assistance for VIPs, dignitaries, and celebrities.
2) Security Guards: Trained members of the Ardh Sainik Forces are equipped to deal with any security threat or necessity, whether it pertains to a commercial, residential, or nonprofit institution.
3) Ministerial Cadre: Proficient in administrative and accounting-related tasks and all standard forms of official correspondence. Any industry may assign them to such work.
4) Transport Officer: During their duty, several Officers and Jawans are in charge of the transport fleets of battalions and are proficient in managing the transport division. They may be relocated to the transportation sector.
5) Commanding Officer: For officers of Ardh Sainik Security to properly command and supervise the various levels of management in any organisation, they must hold a rank of officer higher than Assistant Commandant.
6) Verification Services: Employees of Ardh Sainik have worked in departments akin to CBI and IB, where they gained experience in intelligence services. As a result, our staff can meet any firm's requirements and offer the best verification services.
7) Outsourcing of labour: Outsourcing of skilled or unskilled workers, computer operators, office boys, pantry boys, attendants, assistants, data entry operators, drivers, back office assistants, gardeners, caretakers, facility assistants, helpers, and admin. & account assistants, front office executives, all types of human resources, etc., to the required office or department.
8 ) Cleaning services: For corporate and residential clients, manual and automated housekeeping services.
Eligibility & Priority for Selection
Although current troops may register for placement before to six months after retirement, this facility is open to all retired CAPFs members. For registration with Ardh Sainik Security Services, the following individuals are Effective Positioning: To ensure that only the most qualified and experienced candidates are hired, the eligibility requirements and selection criteria for security guard positions with (ASSS) are designed. By putting an emphasis on qualities like military/police history, communication skills, dependability, and a nice demeanor, ASSS can provide its clients with the best security service available.
Eligibility Requirements
Age: The candidate must be between the ages of 18 and 50.
Educational Qualification: The minimum educational requirement for the position is the tenth grade, while individuals with more excellent education are preferred.
Physical fitness: this is a need for the position, as it may include standing up for extended periods or engaging in strenuous physical activity.
Criminal History: All applicants are subject to a criminal background check by ASSS, and those with a history of criminal behaviour are ineligible for employment as security guards.
Training: Security guards are required to complete mandatory training in emergency response, first aid, use of force, and security protocols.
Priorities for choosing:
Background in the Military or Police: Those with a military or police background are given preference in the selection process since they have the qualifications and experience needed to carry out security activities.
Good communication: Skills are crucial for security guards because they frequently engage with customers, coworkers, and members of the public.
Reliability: ASSS highly emphasizes its employees' dependability and reliability and prioritises those with a history of being accountable and trustworthy.
Positivity: Important characteristics for security guards include an optimistic outlook and the capacity to learn from and adjust to new circumstances.
Availability: Since security services are frequently needed beyond regular business hours, selection criteria give precedence to candidates who can work flexible hours, including nights and weekends.
How to Apply/Register:
Online registration consists of the following Three steps: -
Filling out the paperwork for the Ardh Sainik Security Registration.
Register, log in and create a User ID on the website.
Pay the registration fee of 300 rupees.
The members of our armed forces give their lives in the service of the country with dedication. Since their sacrifice was so great, our top priority is to help them and their family in any way we can. We have consequently taken this unusual step just for paramilitary people. As a result, we are working with potential employers to maintain a few suitable openings for our paramilitary troops and their families. Therefore, please let us know what you need so that we can aid those suffering and losing their lives for the country's good. Together, let's honour a soldier who is defending our country.
In conclusion, Ardh Sainik Security is the obvious choice if you're seeking a security company that provides the highest level of security and expertise. The firm is the finest option for any in need of security services in India because of its dedication to quality, and knowledgeable staff, and extensive service offerings. With its highly skilled and knowledgeable team, cutting-edge technology, and dedication to client satisfaction, Ardh Sainik Security offers top-notch security services. It consistently surpasses other security organizations in India thanks to its emphasis on effectiveness, dependability, and flexibility. As a result, Ardh Sainik Security has established itself as the top option for those looking for the finest level of protection, whether it be for protecting people, homes, businesses, or monumental buildings.