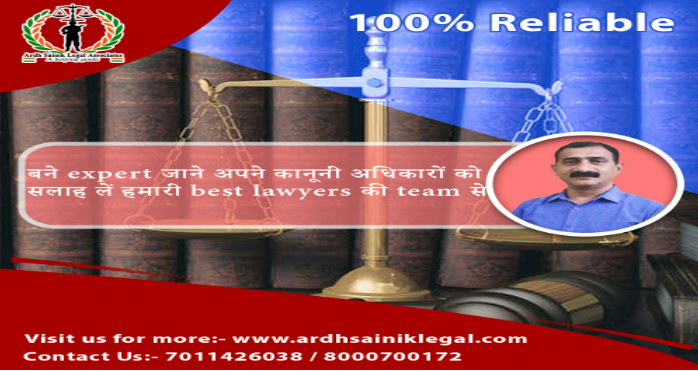 How Ardh Sainik Legal Services Can Help You Solve Your Legal Issues
Legal troubles are an unavoidable part of life in today's complicated and fast-paced world. For many people and businesses, navigating the legal system may be a complex undertaking involving everything from property disputes to criminal charges. To help you with your legal issues, Ardh Sainik Legal Services is available. When you're dealing with legal matters alone, they might feel daunting and unpleasant. However, having a group of knowledgeable attorneys on your side may make a huge difference, and that's where Ardh Sainik Legal Services comes in.
A leading provider of legal services, Ardh Sainik Legal Services, provides clients with various legal services. Their staff of highly skilled and experienced attorneys has the knowledge and skill to handle even the most challenging issues in civil and criminal law. The firm was founded to give people and organizations top-notch legal support in a timely, affordable manner. The firm's highly qualified and experienced attorneys have experience in various legal fields, including corporate law, family law, criminal defense, immigration law, and more.
The dedication of Ardh Sainik Legal Services to offering each customer individualized and custom legal solutions is one of its defining characteristics. The firm's attorneys know that each case is distinct and necessitates a distinctive strategy. Therefore, they take the time to listen to their customers, comprehend their worries, and offer savvy legal counsel.
Ardh Sainik Legal Services assists clients in court proceedings and offers legal advice. The firm's attorneys have a track record of success representing clients in various legal problems and are knowledgeable about current legal trends and courtroom etiquette. They put in a lot of effort to guarantee that their client's rights are upheld and that the court will rule in their favour.
Free Legal Assistance For Armed Forces
Many military personnel deal with legal concerns due to their service, which may be complex and demanding. Legal troubles, including financial disagreements, family law problems, and criminal accusations, can significantly affect a service member's life. Many organisations and governmental bodies offer free legal advice to persons who have served in the armed forces to support the military members.
Ardh Sainik's free legal assistance is provided through a network of legal aid clinics that are located at military installations across India. These clinics are staffed by military attorneys who have extensive experience in the legal issues that military personnel and their families often face. In addition, Ardh Sainik also provides legal assistance through its headquarters in New Delhi.
Civil Law: Ardh Sainik Legal Services can assist you whether you're involved in a legal dispute involving real estate, family law, employment law, contracts, or personal injury claims. Their attorneys will put forth an endless effort to assist you in swiftly and effectively resolving your legal challenges because they have vast knowledge in these fields.
Criminal Law: Having a skilled criminal defence attorney on your side is crucial if you've been accused of a crime. A team of criminal defense attorneys at Ardh Sainik Legal Services is well-versed in criminal law and the criminal justice system. They will defend your rights and work to resolve your matter as favorably as they can.
Business Law: A business can be complicated and demanding to start or run. The legal support and direction you require can be obtained from Ardh Sainik Legal Services, from business registration to handling legal problems. Their group of business attorneys can guide you through the legal system and make sure that your company is protected and in compliance with all relevant laws.
Intellectual Property Law: Protecting intellectual property is essential because it is a crucial component of any organization. A team of intellectual property attorneys at Ardh Sainik Legal Services can assist you with trademark registration, patent applications, and other intellectual property-related issues. They will collaborate with you to ensure your intellectual property rights are upheld and you reap the full rewards of your labor.
The free legal help program Ardh Sainik offers can deal with various legal difficulties.
All active-duty military personnel, retirees, and their families are eligible for free legal aid from Ardh Sainik. This includes people from the paramilitary forces and the Indian Army, Navy, and Air Force. The legal assistance program offered by Ardh Sainik is intended to assist military soldiers and their families with a variety of legal concerns, such as:
Matters relating to family law, including divorce, child custody, and support
Criminal law issues, like court-martial trials
problems relating to employment law, such as wrongful termination, discrimination, and retaliation
matters relating to housing law, such as landlord-tenant disputes and foreclosures
Planning your estate, such as by drafting a will or trust
Cost-effectiveness is a crucial component of Ardh Sainik Legal Services. The firm makes an effort to offer its clients transparent pricing and recognises that legal services can be costly. Therefore, it provides numerous payment alternatives and collaborates with customers to establish a payment strategy that suits their financial situation.
Military soldiers and their families in India can turn to Ardh Sainik as a valuable resource for the legal assistance required to traverse the complex legal system successfully. Whether you are involved in a family law conflict, a criminal investigation, or an employment problem, Ardh Sainik's free legal aid can help you defend your rights and ensure a just resolution. To learn more about the services Ardh Sainik provides, get in touch with them immediately if you are a military service member or veteran in India and require legal aid.